Products & Equipment: The Micro Store
Micro Store -> Remediation Tools & Equipment -> Containment Systems -> Georgia Pacific CoverMax™ Surface Protectant
Georgia Pacific CoverMax™ Surface Protectant
(Click to enlarge)
Oil resistance, impact resistance, water, paint and mud resistance... it's all built in. CoverMax™ Surface Protection helps you protect your flooring and other surfaces during construction and renovations. Every contractor knows stuff happens on a construction site.
CoverMax helps protect your floors, surfaces and bottom line by helping avoid costly call-backs and repairs. If you currently use kraft paper, plastic, hardboard or cardboard to protect your surfaces… try heavy duty CoverMax instead. CoverMax helps protect hardwoods, concrete slabs, vinyl, laminates, stone, tile, counter tops and more.
Patent pending CoverMax is designed with multiple layers, each engineered to perform specific functions and enhance performance. Reusable. 38" x 100'. White.
Features:

Heavy-duty, with twice the impact resistance of the leading competitor
Oil, water, paint and mud resistant
Breathable – vapor permeability helps fresh concrete continue to cure
Rolls Out Flat
Lightweight and scratch resistant
Reusable and Recyclable (product contamination through use may limit recylability)
Made in USA from sustainable and recycled materials
Available Options/Accessories
TSP14100FGP CoverMax™ Surface Protectant, 1-Roll
$59.95
Members: $58.16
Add To Cart
TSP61002HGP CoverMax™ Surface Protectant, 6/Case
$349.95
Members: $339.46
Add To Cart
More photos of this item: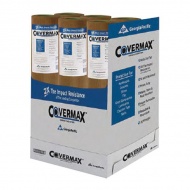 (Click to enlarge)