Products & Equipment: The Micro Store
Micro Store -> Inspection Tools & Equipment -> Gas Detection Monitors -> Extech CO250 Portable Indoor air Quality CO2 Meter
Extech CO250 Portable Indoor air Quality CO2 Meter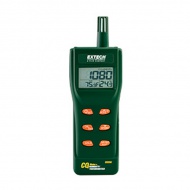 (Click to enlarge)
Measures Carbon Dioxide (CO2), Temperature, Humidity, Dew Point, and Wet Bulb.
Features:

Checks for Carbon Dioxide (CO2) concentrations
Calculates statistical weighted averages of TWA (8 hour time weighted average) and STEL (15 minute short term exposure limit)
Maintenance free NDIR (non-dispersive infrared) CO2 sensor
Measurement ranges:


CO2: 0 to 5,000ppm
Temperature: -14 to 140°F (-10 to 60°C)
Humidity: 0.0 to 99.9%

User programmable audible alarm
Backlit triple LCD display
Built-in RS-232 interface for capturing readings on PC
Data acquisition software and cable included to record and document CO2, Humidity and Temperature data
Optional 33% and 75% RH calibration bottles
Complete with software and cable, 4 AA batteries, and carrying case


Price: $399.99
(Member Price: $388.00)
Free Domestic Ground Shipping for this item!
Download Catalog
Looking for more products from Extech? We carry many more products than we are able to list on our website. Click here to download the full Extech catalog. Then contact us to place your order!