Products & Equipment: The Micro Store
Micro Store -> Inspection Tools & Equipment -> Thermal Imaging Cameras -> Flir One Pro
Flir One Pro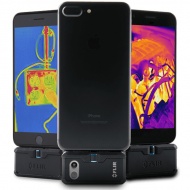 (Click to enlarge)
Meet the new next generation FLIR ONE Pro thermal cameras. When connected to a smartphone, the FLIR ONE Pro allows you to see the world in a whole new way. Whether you're into outdoor adventures and DIY home repairs, or are a hardworking professional looking for the convenience of a thermal camera that goes everywhere you do, there's a FLIR ONE Pro for you.
Features:

With a 4x improvement in thermal resolution, and VividIR™ image processing, FLIR ONE Pro gives you the ability to see more detail, measure smaller components from farther away, and work more safely around energized equipment.
FLIR ONE Pro's MSX feature takes the edge detail from the color camera and embosses it on top of the thermal image, so you get more image detail than ever in a single image.
FLIR ONE Pro is built to take the abuse that working on a jobsite dishes out every day. Rated to take a drop from 1.8 meters, FLIR ONE Pro is built to last.
FLIR ONE Pro's expanded temperature range means you can measure temperatures between -4°F and 752°F (-20° to 400°C). With up to three spot temperature meters and six temperature regions of interest, FLIR ONE Pro gives you added on-the-go image analysis and reporting capability.e
Specifications:

Scene temperature range: -4°F to 248°F (-20° to 120°C)
Operating temperature: 32°F to 95°F (0°C to 35°C)
Non-operating temperature: -20 °C – 60 °C (-4°F – 140°F)
Weight: 36.5 grams
Dimensions: L 2.7 inches (68mm) x W 1.3 inch (34mm) x H 0.6 inches (14mm)
Mechanical shock: Drop from 1.8m
Thermal and visual cameras with MSX
Thermal sensor: Pixel size 12μm, 8 – 14μm spectral range
Thermal resolution: 160 x 120
Visual resolution: 1440 x 1080
Price: $399.99
(Member Price: $388.00)
Free Domestic Ground Shipping for this item!
More photos of this item:
(Click to enlarge)