Products & Equipment: The Micro Store
Micro Store -> Inspection Tools & Equipment -> Thermal Imaging Cameras -> Flir T198583 Flir Tools/Tools+ Reporting Software
Flir T198583 Flir Tools/Tools+ Reporting Software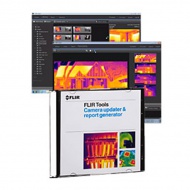 (Click to enlarge)
IR Reporting Software for generating comprehensive inspection and research reports.
Features:
FLIR Tools:

Import, search, filter, and view FLIR JPEG images directly from your FLIR handheld camera via USB cable or by downloading from the imager's SD card
Edit radiometric images to thermal tune level and span, change the palette, or adjust parameters such as emissivity, reflective temperature, and more
Add measurement tools – spots, area boxes, circles, lines, Delta T
Add text annotations and edit image descriptions
Create professional PDF image sheets and reports
Edit MSX images and "Sketch on IR/Visual" images
Display stored compass and GPS information
FLIR Tools + (additionally):

Pair and group FLIR thermal images and digital photos independent of when or how the separate images were originally captured
Stitch FLIR IR images (including MSX™) to create Radiometric Panorama
Record and replay thermal video sequences, create a temporal plot with the recording, and export the sequence to AVI
FLIR Tools+ merges the power of FLIR Reporter with improved speed, allowing you to create reports 50% faster
Price: $295.00
(Member Price: $286.15)
Download Catalog
Looking for more products from Extech? We carry many more products than we are able to list on our website. Click here to download the full Extech catalog. Then contact us to place your order!