Products & Equipment: The Micro Store
Micro Store -> Inspection Tools & Equipment -> Miscellaneous - Inspection -> Extech/Flir FM200 Formaldehyde (CH2O or HCHO) Meter
Extech/Flir FM200 Formaldehyde (CH2O or HCHO) Meter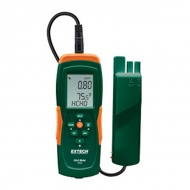 (Click to enlarge)
Measures Formaldehyde concentration, Air Temperature, and Humidity. Adjustable audible alarm feature is excellent for checking indoor air quality in buildings.
Features:

Simultaneously displays Formaldehyde concentration, Air Temperature, and Relative Humidity readings on large LCD with backlight feature
Audible alarm default at 0.08ppm (adjustable)
Designed with Electrochemical CH2O sensor
Sensor LED indication where green indicates
sensor is connected properly and power is on, red LED shows the fan is in working condition (active = flashing red; inactive = solid red)
Built-in bumper that allows the fan inside the sensor to draw in gas quickly
CH2O Calibration function in fresh air
Min/Max and Data Hold
Auto power off with disable
Low battery indicator
Complete with soft tube (approx. 1ft/300mm), sensor with 2.1ft (657mm) cable, 6 AAA batteries and carrying case
Price: $429.99
(Member Price: $417.10)
Free Domestic Ground Shipping for this item!
Download Catalog
Looking for more products from Extech? We carry many more products than we are able to list on our website. Click here to download the full Extech catalog. Then contact us to place your order!