Products & Equipment: The Micro Store
Micro Store -> Inspection Tools & Equipment -> Moisture Meters -> Extech/Flir MO257 Pinless Moisture Meter
Extech/Flir MO257 Pinless Moisture Meter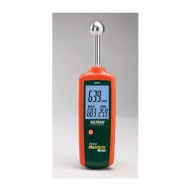 (Click to enlarge)
Non-invasive moisture content measurements in wood/building materials.
Features:

Relative pinless moisture reading for non-invasive measurement from 0.0 to 100.0 with 0.1 resolution
Multifunction backlit triple LCD display
Pinless measurement depth from 0.78" (20mm) to 1.6" (40mm) below the surface
High frequency sensing technology
Automatic Data Hold
Two adjustable alarm levels with audible beeper and visual (flashing "RISK" or "WET") indicators
Automatic calibration (in dry air) when meter is powered on
Low battery indication, Auto Power off
Complete with 3 AA batteries and pouch case
Price: $209.99
(Member Price: $203.70)
Free Domestic Ground Shipping for this item!
Download Catalog
Looking for more products from Extech? We carry many more products than we are able to list on our website. Click here to download the full Extech catalog. Then contact us to place your order!