Products & Equipment: The Micro Store
Micro Store -> Inspection Tools & Equipment -> Hygrometers & Humidity Meters -> Extech 45160 3-in-1 Humidity, Temperature and Airflow Meter
Extech 45160 3-in-1 Humidity, Temperature and Airflow Meter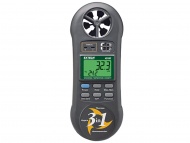 (Click to enlarge)
This rugged 3-in-1 meter measures Humidity, temperature and Air Velocity. High Temperature measurements can be made using the Type K Thermocouple input.
Features:

Simultaneously displays Temperature and Air Velocity or Relative Humidity
Type K input socket for high temperature measurements to 2372°F (1300°C) using optional (TP870) Type K thermocouple
Min/Max, Data hold, Auto power off with disable feature
Built-in low friction vane wheel improves air velocity accuracy
Thin-film capacitance humidity sensor for fast response
Comes complete with wrist strap and 9V battery
Price: $169.99
(Member Price: $164.90)
Free Domestic Ground Shipping for this item!
Download Catalog
Looking for more products from Extech? We carry many more products than we are able to list on our website. Click here to download the full Extech catalog. Then contact us to place your order!