Products & Equipment: The Micro Store
Micro Store -> Inspection Tools & Equipment -> Headlamps, Flashlights, & Work Lights -> Pelican 2720 LED Headlight
Pelican 2720 LED Headlight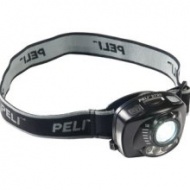 (Click to enlarge)
Gloved hands, wet hands or oily hands are not an issue when using the 2720 with Gesture Activation Control technology. Turn on the light with a wave of a hand. Additional features include: Low level red light that preserves night vision, for nighttime applications. Signaling red (S.O.S) beacon light. Optical 4x magnification allows for a wide or penetrating beam,. Including a variable light output from 100%-10%.
Features:

Gesture Activation Control
Variable Light Output
Dual Red LED Night Vision
Price: $44.95
(Member Price: $43.61)
Download Catalog
Looking for more products from Pelican Products? We carry many more products than we are able to list on our website. Click here to download the full Pelican Products catalog. Then contact us to place your order!