Products & Equipment: The Micro Store
Micro Store -> Inspection Tools & Equipment -> Inspection Equipment Kits -> Tramex FMK5.1 Flooring Master Kit
Tramex FMK5.1 Flooring Master Kit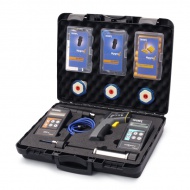 (Click to enlarge)
Test concrete per ASTM F2659 (Non-destructive Method) ASTM F2170 (In situ Method) and ASTM F2420 (Hood Method), Hygrohood optional). Test moisture content in wood.
The ultimate kit for pre & post application moisture testing of concrete slabs, wood and various other floor covering materials. Featuring the Tramex CMEX II digital concrete moisture meter for testing per ASTM F2659 and 3 best in class reusable Hygro-i relative humidity probes for testing relative humidity, temperature and dew point in the environment, or performing ASTM F2170 and ASTM F2420 for relative humidity readings in concrete slabs.
An infrared surface thermometer is including for testing surface temperatures and can be used in conjunction with the Hygro-i sensor to monitor dew point conditions. A heavy-duty hammer pin-probe allows the user to measure the moisture content in wood.
Also featuring a Tramex MRH III incorporating wood species calibration and temperature correction to accurately read the moisture content non-invasively in a variety of wood species and moisture condiitons instantly and non-destructively in roofing, masonry, drywall and laminate. The MRH III can be sued with optional Pin-type probe attachment for wood, and the relative humidity Hygro-i probe. Calibration check salts are included in the Flooring Master Kit, which comes in a protective heavy-duty carrying case with die-cut foam lining.
Includes:

CMEX II - Concrete Meter
MRH III - Moisture and Humidity Meter
3 x Hygro-i Probes
24 Hole Liners
Heavy-Duty Wood Pin-type Probe
Heavy-duty Hammer Wood Pin-type Probe
3 x SAL75 - Calibration Salts
IRTX - Infrared Thermometer
Price: $1799.95
Free Domestic Ground Shipping for this item!