Products & Equipment: The Micro Store
Micro Store -> Business Tools & Software -> Mold DVDs -> TMS for Home Buyers
TMS for Home Buyers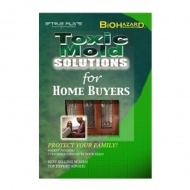 (Click to enlarge)
This DVD is designed to help home owners and home buyers avoid the problems associated with mold by knowing the causes of mold, the risks, and the solutions. The #1 Best Selling information on mold and indoor air quality with special information on:

Home buying
Inspections
Maintenance
Prevention
32 patent pending customizable programs to help you deliver the information your audience needs to cut through all the hype and misinformation on mold!
(Discounts available for quantities of 10 or more. Call Micro for pricing.)
Price: $24.95
Free Domestic Ground Shipping for this item!