Products & Equipment: The Micro Store
Micro Store -> Business Tools & Software -> Mold DVDs -> Toxic Mold Solutions
Toxic Mold Solutions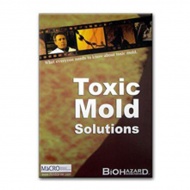 (Click to enlarge)
Need help cutting through all the media hype and misinformation? Need real information to help you with real mold problems? You need "Toxic Mold Solutions". Includes: 44 minute documentary; 91 minutes of supplemental materials; 39 minutes of audio segments; and 74 slides.
This DVD contains:

Clear concise information about toxic mold
Interviews with industry experts
Historical reenactments
This made-for-TV educational documentary provides accurate and useful information to answer all of your mold questions.
(Discounts available for quantities of 10 or more. Call Micro for pricing.)
Price: $19.95
Free Domestic Ground Shipping for this item!