Products & Equipment: The Micro Store
Micro Store -> Safety Equipment -> Harley-Davidson® Safety Line -> Harley-Davidson® HDHHAT30FMSN Skulls Hard Hat
Harley-Davidson® HDHHAT30FMSN Skulls Hard Hat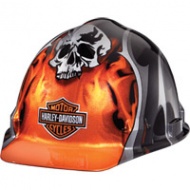 (Click to enlarge)
High Gloss, Orange and Black Hard Hat with Silver Skull and Blade Graphics. Orange metallic flames and razor sharp blades surround metallic skulls on the front and back of this high gloss hard hat.
Classic Harley-Davidson® Bar and Shield logo decal on the front
Smooth 6-point ratchet adjustment that is quick and easy to set, allowing for proper safety cap alignment
Cushioned sweatband that provides increased comfort for the wearer
Type 1 Electric Class G and E
Complies with ANSI Z89.1-2009 Impact Standard
WARNING:

Not intended for use when riding a motorcycle. Improper use may result in serious personal injury or death.
Price: $39.95
(Member Price: $38.76)