Products & Equipment: The Micro Store
Micro Store -> Safety Equipment -> Harley-Davidson® Safety Line -> Harley-Davidson® HDHHAT10SN Hard Hat, Flames Design
Harley-Davidson® HDHHAT10SN Hard Hat, Flames Design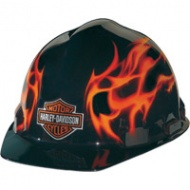 (Click to enlarge)
High Gloss, Black Hard Hat with Realistic Flames Design. The legendary Harley-Davidson® Bar and Shield logo.
Smooth 6-point ratchet adjustment that is quick and easy to set, allowing for proper safety cap alignment
Cushioned sweatband that provides increased comfort for the wearer
Type 1 Electric Class G and E
Complies with ANSI Z89.1-2009 Impact Standard
WARNING:

Not intended for use when riding a motorcycle. Improper use may result in serious personal injury or death.
Price: $37.95
(Member Price: $36.82)