Products & Equipment: The Micro Store
Micro Store -> Safety Equipment -> Masks & Respirators -> MSA Advantage Respirator Cartridges
MSA Advantage Respirator Cartridges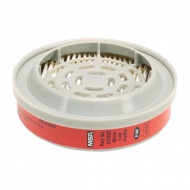 (Click to enlarge)
Cartridges fit all full-facepiece and half-mask Advantage respirators. This line of particulate, chemical, and combination cartridges are NIOSH Certified (to 42CFR, Part 84) and provide lightweight, low-profile performance. Twist-lock style. 2/Pkg.
Crafted for easy installation and strong protection, Advantage Respirator Cartridges use a bayonet-style design for easy mounting. With low-lug height and lead-in connectors, the cartridges lock into place with only a single twist.
NOTE: Use only with MSA Advantage respirators.
Available Options/Accessories
815359MSA Advantage® Respirator Cartridge, Multigas
$19.95
Members: $19.36
Add To Cart
815366MSA Advantage® Respirator Cartridge, Multigas/P100
$24.95
Members: $24.21
Add To Cart
815355MSA Advantage® Respirator Cartridge, Organic Vapor
$16.95
Members: $16.45
Add To Cart
815357MSA Advantage® Respirator Cartridge, Organic Vapor/Acid Gasses
$15.95
Members: $15.48
Add To Cart
815364MSA Advantage® Respirator Cartridge, Organic Vapor/Acid Gasses/P100
$25.96
Members: $25.19
Add To Cart
815369MSA Advantage® Respirator Cartridge, Low Profile P100
$10.95
Members: $10.63
Add To Cart