Products & Equipment: The Micro Store
Micro Store -> Safety Equipment -> Masks & Respirators -> 3M 9211 N95 Disposable Respirator - 10/Box
3M 9211 N95 Disposable Respirator - 10/Box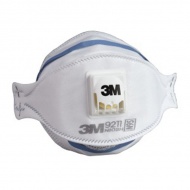 (Click to enlarge)
This disposable N95 particulate flatfold respirator features soft inner material and 3M™ Cool Flow™ Valve to help provide comfortable, reliable worker respiratory protection. Ideally suited for hot/dusty work settings that require long periods of wear.
Suggested applications include grinding, sanding, sweeping, bagging, and other operations that create dust. Uses would also include solids such as those from textile operations, chemical handling, surface preparation, food preparation and handling, woodworking, grain handling and milling, processing of minerals, and certain other substances. It features a low profile collapse resistant design and a soft nose foam pad. Respirators are individually packaged to help prevent contamination during storage.
These respirators also: Allow for a good field of vision, are compatible with protective eyewear, and fit a wide range of face sizes.
Price: $24.95
(Member Price: $24.21)