Products & Equipment: The Micro Store
Micro Store -> Safety Equipment -> Clothing -> KleenGuard® A20 Breathable Particle Protection Coveralls (HBEWA)
KleenGuard® A20 Breathable Particle Protection Coveralls (HBEWA)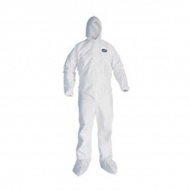 (Click to enlarge)
KleenGuard* A20 Coveralls are made from Microforce* Barrier SMS, a breathable fabric that provides improved barrier protection on submircron-size particles for a perfect combination of protection and comfort. The tough, durable, cloth-like outer layer is an abrasion-resistant, spunbond polypropylene, and the middle layer is an intricate web of microfibers that filter out light, water-based liquids, and dry particulates.
The coveralls are ideal for maintenance and general clean-up work, including asbestos handling, lead abatement, and fiberglass operations. They may also be used in laboratories, pharmaceuticals, food processing, and other manufacturing operations.
Style: Hooded & booted, zipper front, elastic wrists & ankles (HBEWA). White.
Available Options/Accessories
49122KC2 A20 (HBEWA) Coveralls, M, 24/Case
$114.95
Members: $111.51
Add To Cart
49123KC2 A20 (HBEWA) Coveralls, L, 24/Case
$114.95
Members: $111.51
Add To Cart
49124KC2 A20 (HBEWA) Coveralls, XL, 24/Case
$114.95
Members: $111.51
Add To Cart
49125KC2 A20 (HBEWA) Coveralls, 2XL, 24/Case
$114.95
Members: $111.51
Add To Cart
49126KC2 A20 (HBEWA) Coveralls, 3XL, 20/Case
$99.95
Members: $96.96
Add To Cart
49127KC2 A20 (HBEWA) Coveralls, 4XL, 20/Case
$109.95
Members: $106.66
Add To Cart