Products & Equipment: The Micro Store
Micro Store -> Remediation Tools & Equipment -> Structural Drying and Heating -> Omnitec Design OVH230RT Vulcan RT Heater
Omnitec Design OVH230RT Vulcan RT Heater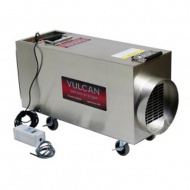 (Click to enlarge)
The Vulcan electric heating system is the most compact and powerful machines available. Vulcan is loaded with 37,000 BTU's of heat power, and precise temperature controls to use it safely and efficiently. NO power cords included.
Features:

Can operate in 104° F environment
6 individually controlled heating elements, Single speed, 475 CFM air flow, high static pressure blower
Variable speed high static pressure blower
Remote programmable temperature controller with 8 ft cord and 15 ft RTD temperature probe can measure air or material temperature for efficient and safe heat control.
Vulcan heaters are built to perform in tough construction environments and are easy to maintain. Vulcan meet UL, CSA and OSHA safety standards.
Specifications:

AIRFLOW: 475 cfm
WEIGHT: 63 lbs
FILTRATION:

Primary/Secondary Filter - 12" x 12" x 2" MERV 11 pleated filter
Optional - 12" x 12" x 2" Carbon Filter for odor control

CABINET:

Aircraft grade aluminum, closed end rivet construction.
Hospital grade non-marking 3" casters for ease of movement.
2 rubber coated handles

CONTROLS:

Variable Speed Controller
Digital Hour Meter
Digital Temperature Controller w/ 25' thermocouple sensor
Auto/Manual temperature control
Individual switches for each of the 6 heating elements

POWER REQUIREMENT: 200-240VAC/50 Amp max.
OUTLET RING SIZE: 10" diameter
INLET CONNECTION: 10" diameter
DIMENSIONS: 11 1/4" wide 17 3/4" high 29 30" long
OUTLET AIR TEMPERATURE: 180° F max
AMBIENT OPERATING TEMP: 140° F
Options:

EDPCORDKIT - New style dryer/range (4 prong) 8' 6/3-81 125/250v 30/50amp plug
EC25TC - Thermocouple 25' cord
Available Options/Accessories
OVH230RT Vulcan RT Heater
$1895.00
Members: $1,838.15
Add To Cart
EDPCORDKIT Cord Kit - 8' Cord With Dryer Connector, 8' Cord With Range Connector


Free Domestic Ground Shipping for this item!

$326.00
Members: $316.22
Add To Cart
OPF1212 MERV11 Pleated Filter
$17.00
Members: $16.49
Add To Cart
QCW12 10" Quick Clamp
$14.00
Members: $13.58
Add To Cart