Products & Equipment: The Micro Store
Micro Store -> Remediation Tools & Equipment -> Air Duct Cleaning Systems -> Nikro PDU4000 Upright Poly Dual Motor Vacuum System
Nikro PDU4000 Upright Poly Dual Motor Vacuum System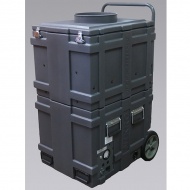 (Click to enlarge)
Our new poly duct cleaning system features a lightweight, dent proof, corrosion resistant polyethylene housing. No more chipped and dented cabinets. The polyethylene housing is not only durable, but will look great for years to come.
Specifications:

C.F.M. - 5000 (Free Air)
Static Pressure - 5"
Volts/Amps - 115V/10 (each motor/2 plugs)
Blower Type - Backward Incline
Filtration - 3-Stage w/99.97% HEPA
Cabinet Size - 31"L x 21"W x 47"H
Assembled Weight - 207 lbs.
Price: $3995.00
(Member Price: $3,995.00)
Free Domestic Ground Shipping for this item!