Products & Equipment: The Micro Store
Micro Store -> Remediation Tools & Equipment -> Air Duct Cleaning Systems -> Nikro Industries EC5000 Air Duct Cleaning System (Dual Motor)
Nikro Industries EC5000 Air Duct Cleaning System (Dual Motor)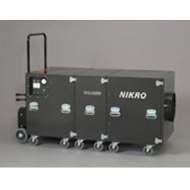 (Click to enlarge)
Nikro "EC" Air Duct Cleaning Systems offer professional air duct cleaners all the power needed to clean up with confidence. These powerful vacuums are compact, lightweight, and portable - making them ideal for residential and light commercial work.
The #EC5000 incorporates two - 1.5 horsepower, backward incline motor and blower assemblies, which create a powerful combination of vacuum and air flow.
The Nikro "EC" Systems incorporate an exclusive 3-stage filtration system which includes a final stage H.E.P.A. (High Efficiency Particulate Air) filter rated at 99.97% @ 0.3 micron particles and larger, DOP Tested. This actually meets or exceeds OSHA, EPA, and NADCA Standards for cleaning the air of toxic and nuisance dust.
This unique filtration system is specially designed to prevent premature filter loading, thus providing maximum vacuum at all times, and lowering the cost of filter maintenance. Each vacuum is equipped with a filter monitoring gauge which takes the guess-work out of filter maintenance.
With the special high efficiency motor design of these units, they can be ran virtually anywhere. They operate on 115 volts and draw only 13.5 amps (Two separate power cords on the #EC5000).
The unique 3-part aluminum body design with carrying handles and built-in dolly with stair climbers allows the unit to be separated and easily maneuvered or carried even in the tightest spaces.
Each Unit Includes:

Vacuum with complete set of filters
#860147 - 12" x 25' PVC Flex Duct
#860111 - 12" Duct Mounting Flange with 2 - Quick Connect Hose Clamps
3-YEAR WARRANTY
Product Specifications:

C.F.M.: 5000 (Free Air)
Static Pressure 5"
Volts/Amps: 115V/13.5(each motor/2 plugs)
Blower Type: Dual Backward Incline
Filtration: 3-Stage w/99.97% HEPA
Cabinet Dimensions:

Motor Cabinet: 24" L x 26" W x 31" H
Center Cabinet: 13" L x 26" W x 31" H
Primary Cabinet: 22" L x 26" W x 31" H

Assembled Weight: 189 lbs
Available Options/Accessories
EC5000 5000 CFM Free Air Duct Cleaning System (115V/60HZ)
$4295.95
Members: $4,167.08
Add To Cart
EC5000-22060 5000 CFM Free Air Duct Cleaning System (220V/60HZ)
$4429.95
Members: $4,297.06
Add To Cart
EC5000-22050 5000 CFM Free Air Duct Cleaning System (220V/50HZ)
$4695.95
Members: $4,555.08
Add To Cart