Products & Equipment: The Micro Store
Micro Store -> Remediation Tools & Equipment -> Insulation Removal Vacuums -> Nikro Industries INSUL10 10 HP Insulation Removal Vacuum
Nikro Industries INSUL10 10 HP Insulation Removal Vacuum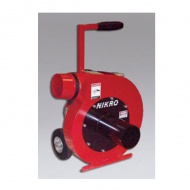 (Click to enlarge)
Make short work of messy, time-consuming insulation removal jobs. These insulation removal vacs are designed for fast profitable removal of fire, smoke and water damaged insulation from attics, sidewalls and crawl spaces. Insulation can be discharged directly into a dumpster or into 75 cubic foot bags.
10 HP Insulation Removal Vacuum.
With three different insulation vacuums to choose from, NIKRO always has the right vacuum for your application.
Features:

EPA Compliant
Ideal for handling wet and dry materials.
Heavy-duty gauge dynamically balanced abrasion resistant fan wheel.
Heavy-duty gauge steel construction w/powder coat paint finish.
Heavy-duty wheels and handles for easy maneuverability.
Reduces labor time and increases profitability.
Discharges into disposable collection bags or directly into trash dumpsters.
Product Description:

Engine: 10 HP Briggs & Stratton with recoil start
Removal Rate: 2925 cu.ft/hr
Dimensions LxWxH: 24"x23"x36"
Weight: 125 lbs.
Disposable Bag Capacity: 75cu.ft
Insulation PACKAGE OPTION Includes:

1 - #INSUL8 - 10HP Insulation Removal Vacuum
4 - #860872 - 6" x 25' Vaculite Hose
3 - #860867 - 6" Metal Hose Connectors
1 - #860868 - 6" to 4" Metal Hose Reducer
1 - #860871 - 4" x 25' Vaculite Hose
9 - #860872 - Adjustable Hose Clamps
1 - #860875 - 4" x 4' Metal Pick-up Tube
5 - #860866 - Disposable Collection Bags
1 - 6 Gallon Gas Tank

Available Options/Accessories

INSUL10 10 HP Insulation Removal Vacuum


Free Domestic Ground Shipping for this item!

$2195.00
Members: $2,129.15
Add To Cart
10INSULPK 10 HP Insulation Removal Package


Free Domestic Ground Shipping for this item!

$2995.00
Members: $2,905.15
Add To Cart
860872 6" x 25' Vaculite Hose
$150.00
Members: $145.50
Add To Cart
860291 Adjustable Hose Clamp
$3.19
Members: $3.10
Add To Cart
860867 6" Metal Hose Connectors
$20.50
Members: $19.89
Add To Cart
860868 6" to 4" Metal Hose Reducer
$58.00
Members: $56.26
Add To Cart
861338 4" Hose Connector
$19.00
Members: $18.43
Add To Cart
860866 Disposable Collection Bags
$16.50
Members: $16.01
Add To Cart
860871 4" x 25' Vaculite Hose
$136.00
Members: $131.92
Add To Cart
860875 4" x 4' Pick-Up Tube
$95.00
Members: $92.15
Add To Cart