Products & Equipment: The Micro Store
Micro Store -> Remediation Tools & Equipment -> Water Extractors -> Boss Cleaning Equipment B001045 Carpet Extractor
Boss Cleaning Equipment B001045 Carpet Extractor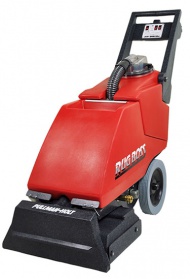 (Click to enlarge)
We have completely redesigned to improve quality and performance, the SC440 offers the same sleek styling and ease-of-use that made it's predecessor, model SC400 a market leader for over twenty years. All the electrical components have been upgraded, the number of fasteners used to assemble the extractor are reduced in half, and a patented method for sealing the brush housing and vacuum shoe against the floor provides solution recovery unmatched by any other single vacuum motor extractor. Use the quick-connect port on the side of the SC440 to attach a floor wand, upholstery or hand tool, and you also have all the benefits of a portable tank extractor included with this smart and efficient design!
120 psi demand style pump for even, deep down spray cleaning
Three-stage vacuum motor, horizontally mounted for better cooling and longer life
3 quick disconnect plastic jets for easy cleaning and replacement
High-tech bearings on brush roll resist rust and provides longer life
35 foot power cord
Price: $1979.95
(Member Price: $1,920.56)
Free Domestic Ground Shipping for this item!