Products & Equipment: The Micro Store
Micro Store -> Remediation Tools & Equipment -> Cleaners, Disinfectants, Sealants -> Fiberlock Shockwave Disinfectant (RTU)
Fiberlock Shockwave Disinfectant (RTU)
(Click to enlarge)
Shockwave RTU is a hospital grade EPA-registered disinfectant, sanitizer, fungicide, virucide, bactericide and cleaner for use on porous and nonporous surfaces.
ShockWave RTU is an EPA-registered, quaternary ammonium chloride cleaner, disinfectant, and sanitizer designed for use on various surfaces subject to microbial contamination. ShockWave RTU is a Ready-To-Use formula that will disinfect hard, nonporous surfaces, and also sanitizes porous and semi-porous surfaces. ShockWave RTU is especially useful as an all-in-one product for treating wood framing, carpets, and other porous and nonporous surfaces as part of a complete mold remediation project.
ShockWave RTU is perfect for situations when a clean water source is not available. Clear.
Available Options/Accessories
8316-1-C4 Shockwave Disinfectant/Sanitizer (RTU) - 1 Gal (4/Case)
$99.95
Members: $96.96
Add To Cart
8316-5 Shockwave Disinfectant/Sanitizer (RTU) - 5 Gal
$99.95
Members: $96.96
Add To Cart
8316CA-1-C4 Shockwave Disinfectant/Sanitizer (RTU) - CA - 1gal (4/Case)
$109.95
Members: $106.66
Add To Cart
8316CA-5 Shockwave Disinfectant/Sanitizer (RTU) - CA - 5 Gal
$89.95
Members: $87.26
Add To Cart
More photos of this item: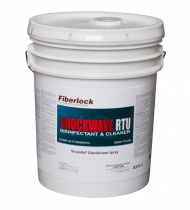 (Click to enlarge)