Products & Equipment: The Micro Store
Micro Store -> Remediation Tools & Equipment -> Cleaners, Disinfectants, Sealants -> Artemis AMIG4 Mold/Mildew Inhibitor
Artemis AMIG4 Mold/Mildew Inhibitor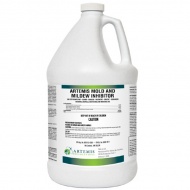 (Click to enlarge)
ARTEMIS MOLD AND MILDEW INHIBITOR is an entirely new class of safe, nontoxic, mildewstat, fungistat disinfectant, deodorizer, and cleaner formula. It is an EPA registered, GOLD SEAL, one-step, ready-to-use, phosphate-free formulation that eliminates bacteria, molds, mildew and fungus and their odors.
Designed for the use by professional Mold Remediation Contractors, Microbial Remediation Technicians, Professional HVAC Installers, Duct Cleaning Technicians and Professional Water Damage Companies. ARTEMIS MOLD AND MILDEW INHIBITOR Controls and inhibits the growth of Mold, Mildew and their Odors on Wood, Wallboard, Concrete, and Masonry (Cinder) Block, Construction Materials in Buildings, For Treatment of HVAC Systems, Water and Smoke Damage Restoration, Sewer Backup and Water Damage from Flooding.
FEATURES AND BENEFITS

When used as directed, inhibits the regrowth of mold and mildew.
Contains no bleach, ammonia,
alcohol, acids, or other VOC's.
Easy to use, no mixing required.
Cleans, disinfects and deodorizes
in one labor-saving step.
Deodorizes by killing microorganisms that cause offensive odors.
Can be applied with a mop, cloth, sponge, hand pump trigger sprayer or ULV sprayer.
For water damage, sewer back up
and river flooding mitigation to clean, deodorize and disinfect.
Sold in 4x1 Gallon Case
Price: $125.98
(Member Price: $120.95)
Free Domestic Ground Shipping for this item!