Products & Equipment: The Micro Store
Micro Store -> Remediation Tools & Equipment -> Cleaners, Disinfectants, Sealants -> Artemis Bio-Solutions ABOMG4 Bio-Oxygen® Mold 100 - 2+2/Case
Artemis Bio-Solutions ABOMG4 Bio-Oxygen® Mold 100 - 2+2/Case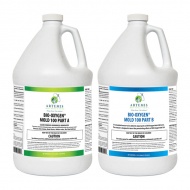 (Click to enlarge)
Artemis Bio-Oxygen® MOLD 100 is the most effective mold elimination solution in the restoration industry! It is a patented, non-toxic 2 part activation formula that eradicates mold, mildew and their odors by destroying them at their source.
MOLD 100 searches and destroys, fractures and breaks down the tough, outer mold spore shell allowing for the agent to enter and eliminate the entire mold organism and neutralize the toxins within. MOLD 100 does NOT encapsulate but eliminates mold so it cannot hide out or go dormant. MOLD 100 leaves a light residual barrier on the surface that prevents mold re-growth and is nontoxic, biodegradable, non-corrosive and non-flammable.
Mold 100 safely degrades itself after the activation period to simply water and oxygen; no strange odors or oils left behind. It is ultimately effective, yet friendly to our environment and used by restoration and remediation professionals around the globe.
Benefits:

EPA Registered Disinfectant, Fungicide, Bactericide and Algaecide.
Eliminates Mold, Spores, Mycotoxins and Bacteria on contact.
No toxic chemicals like alcohol, bleach, ammonia, phenols or oils that could cause allergies.
Bio-Oxygen® Mold 100 is not an encapsulate, but a true spore decontamination product.
Bio-Oxygen® can be sprayed, fogged or foamed.
1 gallon of mixed product can treat up to 3000 Sq. Ft.
Bio-Oxygen® MOLD 100 contains zero VOCs, and is biodegradable.
Non-flammable, Non-hazardous.
Inhibits Mold Regrowth.
The formulation is used and tested by US Military, FEMA, and Federal Agencies.
Save money, time, and labor by using Mold 100 and the patented protocol, pass the clearance test the first time.
Case Includes: 2 Gal - Part A & 2 Gal Part B
Mold100 PTDS
Artemis Mold100 MSDS
Artemis Mold100 MSDS Part B

Price: $245.00
(Member Price: $225.40)
Free Domestic Ground Shipping for this item!