Products & Equipment: The Micro Store
Micro Store -> Remediation Tools & Equipment -> HEPA Vacuums -> Abatement Technologies V8000WD HEPA-Aire¨ Wet/Dry HEPA Vac
Abatement Technologies V8000WD HEPA-Aire¨ Wet/Dry HEPA Vac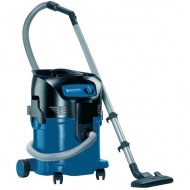 (Click to enlarge)
The V8000WD is a versatile HEPA vacuum that features superior suction performance, a low-profile design, low noise level, highest quality components and materials, and all the power you need to do a better cleaning job, with less effort and in a shorter time. Removes dust, dirt and non-flammable liquids.
This unit is rated at 1.6 HP, 135 CFM air flow and a vacuum waterlift of 92 inches. It features a 99.97% efficient @ 0.3 microns HEPA filter, making it ideal for applications wherever HEPA filtration is required to eliminate airborne contaminants and/or to comply with applicable regulations.
Furnished with combination floor nozzle, crevice tool and universal nozzle.
Features:

Stable, low-profile design
Powerful operation
ETL Tested & Certified for safe electrical operation
Individually tested & certified 99.97% HEPA
Slim & easy to transport
Easy emptying tank
Low noise level
Quality components throughout
Chrome wand & extension
One year limited warranty
Technical Data:
Power: 1.6 HP
Peak Power: 7.25 HP
Air Flow: 120 CFM
Waterlift: 90" w.g.
Noise Level: 59db(A)
Tank Volume: 8 gallons
LxWxH: 15" x 15" x 22"
Weight: 22 lbs
Hose (dia & len): 1.5" x 10'
Available Options/Accessories
V8000WD HEPA-Aire¨ Wet/Dry HEPA Vac
$669.95
Members: $649.86
Add To Cart
V8020 18" Industrial Metal Floor Nozzle for V8000WD
$109.95
Members: $106.66
Add To Cart
V8023 18" Industrial Squeegee for V8000WD
$99.95
Members: $96.96
Add To Cart
V8042-W HEPA Filter for V8000WD
$179.95
Members: $174.56
Add To Cart
V8040-5 Fleece Filter Bag for V8000WD - 5/cs
$69.95
Members: $67.86
Add To Cart
V54118 Beater Var Power Nozzle for V8000WD
$110.00
Members: $106.70
Add To Cart
Download Catalog
Looking for more products from Abatement Technologies? We carry many more products than we are able to list on our website. Click here to download the full Abatement Technologies catalog. Then contact us to place your order!