Products & Equipment: The Micro Store
Micro Store -> Remediation Tools & Equipment -> HEPA Vacuums -> Abatement Technologies V1300-H HEPA-Aire¨ Hip-Mounted HEPA Vaccum
Abatement Technologies V1300-H HEPA-Aire¨ Hip-Mounted HEPA Vaccum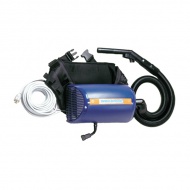 (Click to enlarge)
The lightweight V1300H hip-pack vacuum (just 6 lbs.) provides maximum user flexibility and mobility ideal for mold remediation jobs where ease and mobility are key! This HEPA unit is ideal for applications when cleanup must be done in especially difficult to access areas, or in elevated areas that must be accessed via ladders or scaffolding.
The ergonomically designed, lightweight unit maximizes operator comfort with no dragging, pushing or working around obstacles. The velcro strap on the belt allows adjustment to virtually any size operator. And, the vacuum can be postiioned for either right or left handed operation which enables the user to move freely and easily without back strain.
No other back pack vacuum provides a better combination of power and portability. The V1300 is manufactured from a high-impact ABS plastic, and is designed to provide years of reliable operation. Comes complete as a package: heavy duty velcro strap; a complete tool kit; tool holder and 50' grounded power cord.
Tool kit includes:

Gator Tool
Carpet Tool
10.5" Crevice Tool
Dusting Tool with rubber furniture guard
Features:

1000 watt blower generates 95" water lift & 100 cfm airflow
Weighs just 6.4 lbs
99.99% true HEPA for particles 0.3 microns & larger
Convenient, productive & reliable
Available Options/Accessories
V1300H HEPA-Aire Hip-Mounted HEPA Vaccum
$679.00
Members: $658.63
Add To Cart
V1340-10 Hi-Filtration Dust Bags 10/cs
$49.95
Members: $48.46
Add To Cart
V1342 HEPA Filter for V1300H
$109.95
Members: $106.66
Add To Cart
V1345-5 Exhaust Filter for V1300H - 5/cs
$59.95
Members: $58.16
Add To Cart
Download Catalog
Looking for more products from Abatement Technologies? We carry many more products than we are able to list on our website. Click here to download the full Abatement Technologies catalog. Then contact us to place your order!
More photos of this item:
(Click to enlarge)