Products & Equipment: The Micro Store
Micro Store -> Remediation Tools & Equipment -> HEPA Vacuums -> Atrix International VACOMEGAH HEPA Abatement Vacuum
Atrix International VACOMEGAH HEPA Abatement Vacuum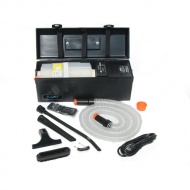 (Click to enlarge)
The Omega HEPA vacuum is made from high impact Starex flame retardant polymer for durability and long life. It comes complete with all accessories shown above. It also features over-heat protection.
Filtration - A self contained HEPA filter cartridge for lead dust, mold spores, etc., reduces the risk of particle dispersion. The cartridge filter makes filter changes easy, clean, and safe.
Powerful and Quiet - Get the job done quickly and quietly! 16" flexible wand is pliable and will fit into hard to reach places.
Available Options/Accessories
VACOMEGAH HEPA Abatement Vacuum
$219.95
Members: $213.36
Add To Cart