Products & Equipment: The Micro Store
Micro Store -> Remediation Tools & Equipment -> Filters & Accessories -> Abatement Bulldog Neg Air Machine
Abatement Bulldog Neg Air Machine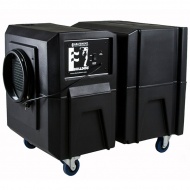 (Click to enlarge)
The powerful yet lightweight BULLDOG BD2KL contractors model and BD2KLA deluxe model from Abatement Technologies delivers outstanding HEPA air cleaning performance. Its rotationally-molded polyethylene cabinet made from a UL94HB flame retardant polymer resin is virtually indestructible and leak-tight.
The difference between the two units is that the BULLDOG BD2KL is equipped with a visual "change filter" indicator lamp, while the BULLDOG BD2KLA deluxe model adds a large 5" diameter magnehelic pressure-gauge and an audio "change filter" alarm.
Features:

Powerful Air Flow - High-performance motor and custom-engineered blower
Virtually Indestructible Cabinet - TEFGARD® polyethylene cabinet surface finish for easy cleaning and decontamination
True Original Equipment Micro-Glass HEPA Media Filter - Each model ships with a high-capacity 24" x 24" x 6" HEPA filter individually tested and certified at 2,000 cfm airflow to ensure that it provides minimum filtration efficiency of 99.97% @ 0.3 microns
Optional 12"-Deep HEPA Filter - Unique design of the BULLDOG allows both models to also accept replacement 24" x 24" x 12" replacement HEPA filter in place of standard 6"-deep HEPA
Multiple Airflow Settings - High and low motor speed settings
User-Friendly Controls - Recessed controls to protect components
Convenient Filter Access - Hinged access door provides quick access to filters
Superior Mobility - Two fixed and two locking 4" swivel casters plus 4 lift handles
Safety First - NRTL-certified to comply with UL Std. 507 & CAN/CSA Std. #C22.2 No. 113-M1984 for electrical safety & UL94HB flammability requirements for polymer cabinets housing energized electrical components
Available Options/Accessories
BD2KM Bulldog Negative Air Machine
$895.95
Members: $869.08
Add To Cart
BK2KMA Bulldog Deluxe Negative Air Machine
$1095.95
Members: $1,063.08
Add To Cart
H2001 First Stage Polypad Pre-filter - 40/cs
$69.95
Members: $67.86
Add To Cart
H2002-12 2" Pleated Particulate Filter - 12/cs
$83.95
Members: $81.44
Add To Cart
H242406-99 Final Stage HEPA Filter
$179.00
Members: $173.63
Add To Cart
Download Catalog
Looking for more products from Abatement Technologies? We carry many more products than we are able to list on our website. Click here to download the full Abatement Technologies catalog. Then contact us to place your order!