Products & Equipment: The Micro Store
Micro Store -> Remediation Tools & Equipment -> Filters & Accessories -> Abatement Technologies PAS1600SHS HEPA-AIRE® Portable HEPA-Filtration Systems
Abatement Technologies PAS1600SHS HEPA-AIRE® Portable HEPA-Filtration Systems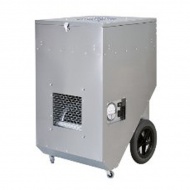 (Click to enlarge)
The new HEPA-AIRE® Portable Air Scrubber from Abatement Technologies® deliver more bang for your buck compared to other negative air filtration devices. HEPA-AIRE® models have the features you are looking for such as powerful airflow, low amperage draw, a lightweight and mobile design–all at an affordable price! Plus, HEPA-AIRE® Portable Air Scrubbers come with the unmatched quality and reliability you expect from Abatement Technologies, the industry leader for high performance HEPA-filtration systems.
HEPA-AIRE® Portable HEPA-Filtration Systems are equipped for creating negative pressure containment or use as a recirculating air scrubber. SAFEGUARD units capture particles in three or four filter stages with exceptional dirt holding capacity, including a final-stage HEPA filter tested and certified to capture at least 99.97% @ 0.3-micron particles. This model operates safely on a 120 V/15 amp electric circuit with power to spare.
The HEPA-AIRE® PAS1600SHS high-performance system provides the enhanced performance required for the toughest structural drying jobs, such as use with specialized drying attachments, like the Adaptidry Floor and Wall Drying Kit from Injectidry®. A powerful 1.5 hp motor and back­ward curved blower that produce up to 50% more static capacity than competitive units dry structures faster, can increase productivity, and reduce drying time and costs. At peak airflow of 1,900 cfm, the PAS1600SHS can typically maintain 6 ACH in containment areas as large as 19,000 ft³.
Specifications:

Airflow* - Two speed model up to 1,900 cfm
Air Changes Per Hour - 6 ACH @ 19,000 ft³
Maximum Blower Static Pressure - 4.7" water gauge
Net Weight with Filters - 131 pounds
Shipping Weight - 153 pounds
Dimensions (L x W x H) - 24.75"L x 27.5"W x 38.625"H
Power Supply Requirements - 120 volts AC, 60Hz, 15 amps
Peak Operating Amps - 8 amps
Electrical Safety - NRTL-certified to comply with UL Std. 507 & CAN/CSA Std. #C22.2 No. 113-M1984 for electrical safety
Motor/Blower - 1.5 HP high-efficiency/backward curved
Controls - Protected recessed controls, Off/High/Low speed selector switch, power indicator lamp, separate 'Replace Pre-filter' and 'replace HEPA' lamps, digital operating hour meter
Differential Filter Pressure Gauge - 5" diameter magnehelic gauge
Cabinet Material - 20 gauge stainless steel construction with solid rivets
Built-in Dolly - Two-wheel dolly with 12" solid, non-marking rubber rear wheels, 360° swivel front casters and a secure top handle for easy movement and control
Easy to Replace Pre-Filters - Hinged and latched pre-filter access door with a full perimeter gasket seal to protect against dirty-air bypass
Pre-Filter Mounting - Separate slide-in compartments for up to 3 pre-filter stages
Inlet/Outlet Manifold - 12" inlet/outlet collar designed for attachment of flex duct, lay-flat duct (outlet only), or high static tools
Replacement Filters and Accessories:

H2003 - First Stage FIBER-TRAPPER® Particulate Pre-filter
H2002 - Second Stage Pleated Particulate Pre-filter
VL2024 - Optional Third Stage VAPOR-LOCK® High Capacity Activated Carbon Filter
H242406DG - Final Stage 6"-Deep 99.97% HEPA Filter
Available Options/Accessories
PAS1600SHS HEPA-AIRE® High-Performance HEPA Filtration System
$1749.00
Members: $1,696.53
Add To Cart
PAS1600SHS-4 HEPA-AIRE® High-Performance HEPA Filtration System - 4/Pallet
$6949.00
Members: $6,740.53
Add To Cart
H2003 Ring Panel Pre-filter - 12/cs
$74.95
Members: $72.71
Add To Cart
H2002-12 2" Pleated Particulate Filter - 12/cs
$83.95
Members: $81.44
Add To Cart
VL2024 Optional Third Stage VAPOR-LOCK® High Capacity Activated Carbon Filter
$54.95
Members: $53.31
Add To Cart
H242406DG Final Stage 99.97% HEPA Filter w/Molded Plastic Frame
$174.95
Members: $169.71
Add To Cart
Download Catalog
Looking for more products from Abatement Technologies? We carry many more products than we are able to list on our website. Click here to download the full Abatement Technologies catalog. Then contact us to place your order!