Products & Equipment: The Micro Store
Micro Store -> Remediation Tools & Equipment -> Filters & Accessories -> Omnitec Design OAP2424 Primary/Secondary Filter, Two-stage poly - 20/csse
Omnitec Design OAP2424 Primary/Secondary Filter, Two-stage poly - 20/csse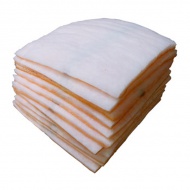 (Click to enlarge)
OmniAire negative air machines are shipped with Dustlok primary/secondary poly-pad filters. Frequent changing of the inexpensive pre-filters will dramatically increase the useful life of more expensive HEPA filter.
Features:

Economical operation - MERV 8 Efficiency at low replacement cost
Long Life - Dual-Density for Progressive Depth Loading
Antimicrobial treatment - Effective Control of Mold, Mildew, Algae, Fungi on the Filter
Flame Retardant – UL Class 2 Rating
Dustlok tactifier - filters have fibers in the downstream layer coated with a special adhesive which holds dust particles. The adhesive does not dry out or migrate.
Dual Density media - high dust holding – long service life. The air enters the course, open structure of the white media which captures the large particles. The orange, dense, downstream layer effectively stops and traps the finer particles.
SPOR-AX Antimicrobial is a biocide that effectively controls growth of mold, mildew, algae and fungi on filter. SPOR-AX will not off-gas, migrate or leach into the air stream.
Replacement primary/secondary filters are cut-to-size for OmniAire negative air machines and packed in boxes of 20. If the filter does not have Dustlok stamped on it, it is not a Dustlok filter.
Price: $89.95
(Member Price: $87.26)