Products & Equipment: The Micro Store
Micro Store -> Remediation Tools & Equipment -> Containment Systems -> Fast Cap 3-H Contract PK 3rd Hand Contractor Dust Containment Package
Fast Cap 3-H Contract PK 3rd Hand Contractor Dust Containment Package
(Click to enlarge)
This is perfect for mold remediation area containment. The 3rd Hand HD also helps you meet stringent Environmental Protection Agency (EPA) lead-dust containment laws when doing demolition or when renovating an older home that has lead paint. In fact, the EPA mandates that dust be contained when as little as six square feet of lead paint is disturbed in homes or facilities where there are children under six years old.
This kit includes: 4 12' poles; 8 Articulating Feet; 4 Magnetic Dust Feet; 4 Universal Feet; and 1 Ballistic Nylon Bag.
Specifications:
Material: Steel & ABS
Load Capacity: 150 lbs
Four universal feet for attaching to a variety of surfaces
Extension Range: 57" to 12' (144")
Outer Pole Diameter: 1 3/16"
Available Options/Accessories
3-H Contract PK 3rd Hand HD Contractor Pack
$176.95
$169.95
Members: $164.86
Add To Cart
3-H Door Mag 4-pc Pack
$19.95
$10.00
Members: $9.70
Add To Cart
More photos of this item: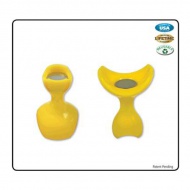 (Click to enlarge)