Products & Equipment: The Micro Store
Micro Store -> Remediation Tools & Equipment -> Containment Systems -> Zipwall ZWHK Hall Kit
Zipwall ZWHK Hall Kit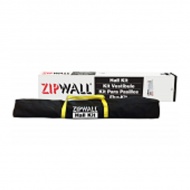 (Click to enlarge)
The ZipWall® Hall Kit contains everything you need to seal off a hallway in minutes. It comes in a handy carry bag and is ready when you need it. Make sure you have some on hand ready to go to work at all your locations. Class A flame retardant. For hallways up to 9.5' x 9.5'.
ZipWall® Hall Kit contains one ZipFast Hatch™ panel, two 8' FoamRail Span™ adjustable tapeless seals, three 12' spring-loaded poles, one SidePack™ Wall Mount Kit (six SideClamp™ wall mounts, six 3' FoamRail™ tapeless seals, one carry bag), two Edge™ heads and plates, two Gripdisk™ non-slip pads, and one Hall Kit Carry Bag.
Features:

Seals tightly at the walls, floor and ceiling
Zippered hatch for easy entry and exit
Works with any type of dropped or plastered ceiling
Ideal for medical, institutional, hospitality, or commercial buildings of any kind
Class A Flame Retardant
For hallways up to 9.5' x 9.5'
Price: $879.95
(Member Price: $853.56)
Free Domestic Ground Shipping for this item!
Download Catalog
Looking for more products from Zipwall? We carry many more products than we are able to list on our website. Click here to download the full Zipwall catalog. Then contact us to place your order!
More photos of this item:
(Click to enlarge)