Products & Equipment: The Micro Store
Micro Store -> Remediation Tools & Equipment -> Containment Systems -> Fiberlock Technologies 6439-U Klean-Pop Collapsible Decontamination Shower
Fiberlock Technologies 6439-U Klean-Pop Collapsible Decontamination Shower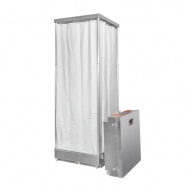 (Click to enlarge)
A revolutionary pop-up shower for emergency devon or asbestos abatement. When disassembled, Klean-Pop offers the easy mobility and compact appearance of a suitcase on wheels. One person can move Klean-Pop wherever it needs to be, and set up the shower in as little as 2 minutes. Priced competitively with telescoping designs, and more durable than plastic options, Klean-Pop answers the growing need for a quality decontamination shower that is inexpensive, durable and easy-to-use.
Features and Benefits

Compact When Collapsed - Easy and efficient transport and storage. Occupies less space in truck or warehouse than conventional telescoping shower designs.
Inset Wheels, Built in Handle & Lightweight Design - As portable as a suitcase. Easy for one person to move from place to place. Set-back wheel design makes stacking for storage or transport easy. Lighter than conventional telescoping shower designs.
Rugged Aluminum Construction - Rigid and durable when assembled.
Unique Set-Up Design - One person set-up in as little as two minutes. Two curtains with rings already mounted on ceiling rods for privacy. Curtains are easily changed or removed when desired, and replacements are available.
All-Brass, Strategically-Located Mixing Valve - Quality durable fixture designed to last; mounted on ceiling so equipment can be moved through deacon.
Specifications:

Weight: 95lbs
Dimensions: Collapsed: 30" L x 30" W x 10" H; Set-Up: 30" L x 30" W x 83" H
Price: $949.95
(Member Price: $921.46)