Products & Equipment: The Micro Store
Micro Store -> Remediation Tools & Equipment -> Containment Systems -> Zipwall Heavy Duty Zipper
Zipwall Heavy Duty Zipper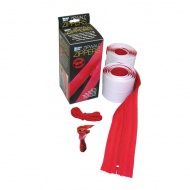 (Click to enlarge)
Use the ZipWall® Heavy Duty Zipper to create a doorway where you want it. This zipper is ideal when your barrier will be up for a while, if there will be a lot of traffic in and out, or if the work-site will go below freezing.
The improved 7 foot long zipper is made from a single 3"-wide piece of fabric. This eliminates the stitching required to join the adhesive strips to the zipper. This new single-piece design improves reliability by eliminating the stitching that could pull apart under heavy traffic or with rough usage. 2/box
It is easier to install, too. A single piece backing paper cuts installation time in half. Use one zipper for a simple doorway or place two zippers side by side to create a wide roll-up doorway. The wide doorway makes it easy to move equipment and building materials in and out.
When the zipper is in place, open it and then cut the opening with the ZipWall® Zipper Knife™. This handy knife, cuts a 3/4" wide channel in the plastic so the zipper teeth won't catch on the plastic sheeting and bind. No more trimming. No more stuck zippers. This knife comes with each box of 2 Heavy Duty Zippers.
Like all ZipWall® zippers the new Heavy Duty zipper has a two-sided pull plus a smooth glide action making it easy to open.
Available Options/Accessories
HDAZ1 Heavy Duty Zipper - 3 Pack (No knife)
$27.95
Members: $27.12
Add To Cart
HDAZ2 Heavy Duty Zipper - 2 Pack (w/Knife)
$19.95
Members: $19.36
Add To Cart
HDAZ12 Heavy Duty Zipper - 12 Pack (w/Knife)
$89.95
Members: $87.26
Add To Cart
Download Catalog
Looking for more products from Zipwall? We carry many more products than we are able to list on our website. Click here to download the full Zipwall catalog. Then contact us to place your order!
More photos of this item:
(Click to enlarge)