Products & Equipment: The Micro Store
Micro Store -> Remediation Tools & Equipment -> Containment Systems -> Zipwall SDPK Side Pack Kit - 6 Pack
Zipwall SDPK Side Pack Kit - 6 Pack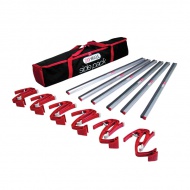 (Click to enlarge)
The Side Pack accessory kit creates a dust-tight seal along two walls, from floor to ceiling without tape or staples. Each SDPK package contains 6 3-foot Foam Rails, 6 Side Clamps, and a Carry Bag.
Features:

Pro-quality/durability; provides a 9-foot dust-tight seal along two walls without tape or staples
Compatible with SLP or Kit 20 poles
Easy, quick assembly
No tape needed
Specifications:

Six 3-foot Foam Rails
Six Side Clamps
Carry Bag
Meets strict ANSI certification for quality
One year warranty
Price: $189.95
(Member Price: $184.26)
Download Catalog
Looking for more products from Zipwall? We carry many more products than we are able to list on our website. Click here to download the full Zipwall catalog. Then contact us to place your order!