Products & Equipment: The Micro Store
Micro Store -> Remediation Tools & Equipment -> Containment Systems -> Abatement Technologies AG3000MCCK Aire-Guardian® Mobile Containment Cube
Abatement Technologies AG3000MCCK Aire-Guardian® Mobile Containment Cube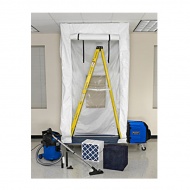 (Click to enlarge)
Accessing the space above ceilings or behind walls during construction, renovation or maintenance projects can release clouds of dust, mold spores and other contaminants into the air. The AIRE GUARDIAN Mobile Containment Cube from Abatement Technologies® is engineered to help contain the spread of these airborne particles into other areas of the facility.
Ideal for multiple, quick-entry jobs or longer-term construction projects, AIRE GUARDIAN rolls quickly into position and extends securely against the ceiling to help minimize exposure to building occupants and contamination of products or sensitive equipment. This reusable unit is perfect for projects in government facilities, office buildings, schools & universities, retail establishments, storage facilities and manufacturing facilities.
The AIRE GUARDIAN MCCK Mobile Containment Cube is an effective tool for negative-pressure containment of particles released into the air during work in ceiling or wall cavities. Its exceptional mobility makes it ideal for jobs where the cube must often be moved within the facility, such as running cable. Components include: an aluminum frame, with a top frame, a base, and four spring-loaded, upright poles; a fire-retardant PVC enclosure; and an aluminum cart.
The lightweight enclosure is made from a tough reinforced
PVC material used to make military tents for harsh outdoor
environments. Features include:
Large zippered entry/exit doors on 3 sides
Zippered top, for full access above drop-ceilings
Double thickness floor for added strength &
durability
Zippered openings on 2 sides for wall cavity access
Large, clear plastic windows on all 4 sides, for
visibility
Clear pouch for work orders and other documents
Pass-through opening with a removable cover
Portable air scrubber and HEPA vacuum ports
Dimensions: 30" x 60"
Available Options/Accessories
AG3000MCCK Aire-Guardian® Mobile Containment Cube


Free Domestic Ground Shipping for this item!

$3495.95
Members: $3,391.08
Add To Cart
PRED750 Portable Air Scrubber


Free Domestic Ground Shipping for this item!

$969.95
Members: $950.56
Add To Cart
V8000WD HEPA-Aire¨ Wet/Dry HEPA Vac
$669.95
Members: $649.86
Add To Cart
AG-Caddy Optional Attachable Cart for Air Scrubber, HEPA Vac
$459.95
Members: $446.16
Add To Cart
H2350-10 10" Dia. Locking Clamp for Flex Duct Attachment - 1/cs
$29.95
Members: $29.06
Add To Cart
Download Catalog
Looking for more products from Abatement Technologies? We carry many more products than we are able to list on our website. Click here to download the full Abatement Technologies catalog. Then contact us to place your order!