Products & Equipment: The Micro Store
Micro Store -> Remediation Tools & Equipment -> Air Movers -> Abatement Technologies Axial Air Mover
Abatement Technologies Axial Air Mover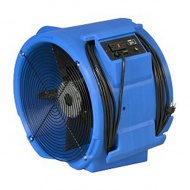 (Click to enlarge)
The powerful, durable and lightweight RAPTOR RAM3000D is a deluxe, full feature axial air mover from Abatement Technologies. It delivers almost 3,500 cfm of high velocity airflow right where you need it for structural drying, yet draws less than three amps. The RAM3000D is specially designed to dry sub-surface materials, such as carpet pads and subflooring, in "top-down" or "in-place" conditions.
RAM3000D Axial Air Mover controls include a three-speed switch, a green "On" lamp, circuit breaker, hour meter and a GFCI protected duplex receptacle for daisy-chaining up to 4 units together on one 15-amp circuit. A more basic model, the RAM3000S, is also available that does not include the GFCI receptacle, hour meter and circuit breaker.
Features:

Airflow - 3,450 cfm (High); 2,300 cfm (Low)
Net Weight - 32 pounds
Power Supply Requirements - 115-120 volts AC, 60 Hz, 15 amp circuit
Normal Operating Amps - High speed: 2.8 A @ 120 VAC, 60 Hz. Low speed: 2.3 A @ 120 VAC, 60 Hz
Circuit Breaker - 10 amps
Cabinet Material - UL94HB flame retardant resin with EPA-Registered microbial inhibitor
Power Cord - Hard wired 14/3 SJTW power cord with molded plug
Controls - Three-position HIGH/LOW/OFF motor switch with green "unit on" light indicating fan operation
Transportability - Built-in ergonomic carry-handle for even weight distribution and perfect balance
Non-Marking Rubber Feet - Attached rubber feet protect surfaces, eliminate vibration and secure the RAM3000D firmly in place during operation
Deluxe model includes GFCI receptacle, circuit breaker and hour meter
Available Options/Accessories
RAM3000DBL Raptor Axial Air Mover - Blue (Deluxe)
$435.00
$419.00
Members: $406.43
Add To Cart
RAM-STAND Folding Stand for Both Axial Air Movers
$150.00
Members: $145.50
Add To Cart
Download Catalog
Looking for more products from Abatement Technologies? We carry many more products than we are able to list on our website. Click here to download the full Abatement Technologies catalog. Then contact us to place your order!
More photos of this item: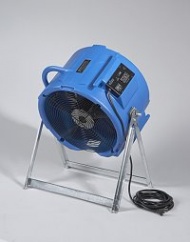 (Click to enlarge)
(Click to enlarge)