Products & Equipment: The Micro Store
Micro Store -> Remediation Tools & Equipment -> Air Movers -> Abatement Technologies RAM1000DBL Centrifugal Air Mover
Abatement Technologies RAM1000DBL Centrifugal Air Mover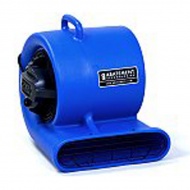 (Click to enlarge)
The highly portable RAPTOR Centrifugal Air Movers (CAM) provide high-speed 3,275 fpm airflow using less than three amps. Up to four RAPTOR CAM units can be daisy-chained together to operate on a typical 15 amp household circuit. More units in the wet area create greater airflow and faster, higher-quality drying results.
RAPTOR drying equipment applies more airflow in hard-to-dry areas where you need it most. Applications include carpet and pad blowing, sub-floor drying, drying walls and removing moisture from saturated furniture and other surfaces. In addition to structural surface drying during water and flood loss remediation, RAPTOR Air Movers are excellent tools for construction, renovation, janitorial, sanitation and general ventilation uses.
State-of-the-art design features of the RAPTOR Air Mover include:
Advanced Centrifugal Air Drying Technology - Two-speed, high-velocity airflow rated up to 3,275 fpm pulling 2.8 amps or less!
Durable, Lightweight Cabinet - High-density, rotational-molded polymer housing is strong, scuff-resistant and easy to clean
Safety-Certified for U.S. and Canada - ETL-certified to conform with UL & CAN/CSA safety and flammability standards
Includes a dual, GFCI-protected receptacle and circuit breaker for daisy-chain operation of up to four units on a single 15 amp circuit
Convenience Features - Attached 25-foot power cord with grounded plug and built-in cord wrap
User-Friendly Controls - Low-profile, recessed controls with High/Off/Low 3-position switch
Three Operating Positions - Operates in horizontal, 45 degree or vertical position for optimum application of airflow
Space Saving - Up to three RAPTOR units can be securely stacked and interlocked
Price: $209.95
(Member Price: $203.66)
Download Catalog
Looking for more products from Abatement Technologies? We carry many more products than we are able to list on our website. Click here to download the full Abatement Technologies catalog. Then contact us to place your order!
More photos of this item:
(Click to enlarge)