Products & Equipment: The Micro Store
Micro Store -> Remediation Tools & Equipment -> Dehumidifiers -> Phoenix 200 HT LGR Dehumidifier
Phoenix 200 HT LGR Dehumidifier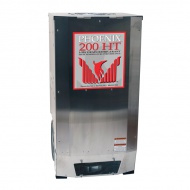 (Click to enlarge)
High-Efficiency Design
The term LGR (Low Grain Refrigerant) was created to describe the unique drying capabilities of the Phoenix 200 dehumidifier. Beginning with the original Phoenix 200 LGR, these units were known for delivering substantially drier air, as well as for drying areas to much lower specific humidity levels than conventional dehumidifiers. The Phoenix 200 MAX, an improved version of the original Phoenix 200, is the culmination of eight years of LGR manufacturing and design expertise.
As always, Phoenix dehumidifiers feature significant air filtration. This filtration dramatically improves the air quality in the areas being dried and assures the continued optimal performance of the refrigeration system.
The Phoenix 200 MAX offers multiple filter options. While MERV-6 and MERV-8 still can be used, Phoenix has raised the bar and now includes standard in all 200 MAX a 65% MERV-11. The optional 95% MERV-14 will remove particles as small as .3 microns.
Versatile and Durable
The multiple ducting options on the Phoenix 200 MAX allow for ducting both the intake air and the filtered and dehumidified supply air. This makes it possible to easily combine the Phoenix 200 MAX with a HEPA air scrubber, air conditioner or desiccant dehumidifier.
Features:
Improved water removal
+16 gals/day (133 pints) AHAM (80ºF, 60%)
30 gals/day maximum
Improved grain depression
The driest air from an LGR
Multiple air filter options Standard 65% MERV-11, 57% MERV-8, or 95% MERV-14
Multiple ducting options
12" intake, 10" layflat supply
Less than 7.5 amps
Removes the most pints of water per kilowatt
Stainless steel cabinet
Internal pump with 30 feet of hose
Five-year warranty on the sealed refrigeration system
Dimensions:


Width: 20" 24-1/4" 27-1/2"
Height: 40" 40" 45-1/2"
Depth: 18-1/4" 21-3/8" 22"
Weight: 131 lbs
Price: $2259.00