Products & Equipment: The Micro Store
Micro Store -> Remediation Tools & Equipment -> Dehumidifiers -> Dri-Eaz DRIF292-A Evolution Low Grain Dehumidifier
Dri-Eaz DRIF292-A Evolution Low Grain Dehumidifier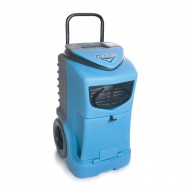 (Click to enlarge)
When you need heavyweight performance in a compact size, choose the Evolution LGR dehumidifier. Drawing only 5.6 amps, the Evolution removes up to 70 pints per day at AHAM. The unit is highly portable, weighing in at 92 pounds and only 33 inches tall. The tough polyethylene housing resists dents and won't rust. The Evolution has been independently tested to UL and CSA standards and is backed by a limited lifetime warranty.
Product Features:
LGR technology boosts effective operating range
Compact size – only 92 pounds
Draws only 5 amps – but removes up to 70 pints/day
Quick pump access for easy servicing
New, rigid fold-down handle
Improved quick-release hose wrap design
Built-in ring for easy attachment of ducting
Price: $1834.95
(Member Price: $1,798.26)
Free Domestic Ground Shipping for this item!