Products & Equipment: The Micro Store
Micro Store -> Remediation Tools & Equipment -> Air Scrubbers / Negative Air Machines / Portable Air Cleaners -> Omnitec Design MF100C Miniforce II Negative Air Machine
Omnitec Design MF100C Miniforce II Negative Air Machine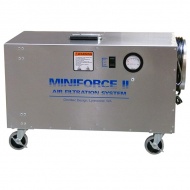 (Click to enlarge)
The MiniForce II machine is used to clean the air on job sites, in confined spaces, abatement and remediation areas, commercial or factory sites, medical facilities, and many other places. With numerous optional pre- and final filters, MiniForce II is suitable for a large array of jobs from light construction, to tasks that require true 99.99% HEPA efficiency. The OmniAire MiniForce II has a easy to sanitize aircraft-grade aluminum body, designed to last job after job.
Specifications:

Airflow: 350 - 425 cfm
Weight: 40 lbs
Filtration:

Primary/Secondary Filter: Dual-ply Dustlok polyester pad
Standard HEPA Filter: Wood Frame 99.97% efficiency @ 0.3 microns
Optional Metal Frame 99.99% efficiency @ 0.3 microns
Optional OdorGuard 600 carbon filter for chemical fumes, VOCs and odor control

Cabinet: Aircraft grade aluminum
Controls:

Switch - Low/Off/High
Pressure Gauge - 0" to 3"

Power Requirement: 115 VAC/50-60 Hz 3.2 amps
Dimensions: 14" x 14" x 27"
Replacement Filters & Accessories:

MFH12 - HEPA Filter, Wood Frame
MFH12G - HEPA Filter, Metal Frame
MFP1313 - Primary/Secondary Filter, 20/Box
OGP1212 - OdorGuard 750 Carbon Web Filter
OCW12 - Quick Clamp, 10"
MFIM8 - Intake Manifold, 8" ring
MD8 - Flexible Duct, Wire reinforced, 8" x 25'
Available Options/Accessories
MF100C Miniforce II HEPA Negative Air Machine


Free Domestic Ground Shipping for this item!

$939.95
Members: $911.76
Add To Cart
MF100CMED Miniforce II Negative Air Machine w/Metal Frame HEPA Filter


Free Domestic Ground Shipping for this item!

$995.95
Members: $966.08
Add To Cart
MFH12 HEPA Filter, 99.97%, Wood Frame
$139.95
Members: $135.76
Add To Cart
MFH12G HEPA Filter, 99.99%, Metal Frame
$139.95
Members: $135.76
Add To Cart
MFP1313 Primary/Secondary Filter, Two-stage poly - 20/case
$46.00
Members: $44.62
Add To Cart
OG1212 OdorGuard 600 Carbon Web Filter, Medium Duty - 12" x 12" x 2"
$36.00
Members: $34.92
Add To Cart
QCW12 10" Quick Clamp
$14.00
Members: $13.58
Add To Cart
MFIM8 Intake Manifold, ABS Plastic
$49.95
Members: $48.46
Add To Cart
MD8 Flexible Duct, 8" x 25' Clear, Wire Reinforced
$32.95
Members: $31.97
Add To Cart