Products & Equipment: The Micro Store
Micro Store -> Remediation Tools & Equipment -> Air Scrubbers / Negative Air Machines / Portable Air Cleaners -> Abatement Technologies PAS5000 HEPA-AIRE® Portable Air Scrubber
Abatement Technologies PAS5000 HEPA-AIRE® Portable Air Scrubber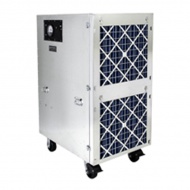 (Click to enlarge)
With peak delivered airflow of up to 4,000 cfm, the PAS5000 Portable Air Scrubber from Abatement Technologies® is designed to handle the largest and toughest disaster restoration jobs you can throw at it.
Its five-horsepower, 230-volt single-phase motor and multi-inlet blower typically enable the PAS5000 to maintain 6 Air Changes per Hour (ACH) in spaces as large as 35,000 to 40,000 ft³.
The dual HEPA filters are individually tested and certified to ensure that the PAS5000 can provide 99.97% or higher efficiency at rated airflow. The upright cabinet mounted on four extra heavy-duty, 5" diameter casters with foot brakes enhances PAS5000 mobility and allows it to fit through standard doorways. The PAS5000 Portable Air Scrubber is NRTL-certified to operate safely on a 220-240 volt/60 Hz single phase power supply.
Hefty features that make the PAS 5000 uniquely qualified for large spaces include:
Power Plus - Strong, five-horsepower single-phase motor delivers up to 4,000 cfm of peak airflow yet draws 21 amps or less on a 230 V/30 amp/60 Hz electric supply
Durability - Tough, galvanized 20 gauge stainless steel cabinet with strong and secure aircraft-type solid rivet fasteners
Mobility - Narrow, 26.5"-wide upright cabinet with four extra heavy-duty, 5" diameter by 2"-wide casters (2 fixed and 2 locking swivels)
Odor Adsorption - VAPOR-LOCK® high-capacity granular carbon pre-filters capture gasses and odors. Optional pre-filters are also available
HEPA Efficiency - Dual 2,000 cfm HEPA filters are 100% tested and certified to provide 99.97%+ efficiency @ 0.3 microns
Safety - The PAS5000 has been independently tested and certified in accordance with applicable UL and CSA safety requirements
Available Options/Accessories
PAS5000 HEPA-AIRE® Portable Air Scrubber
$6100.00
$5829.00
Members: $5,712.42
Add To Cart
H2002-12 2" Pleated Particulate Filter - 12/cs
$83.95
Members: $81.44
Add To Cart
H242406-99 Final Stage HEPA Filter
$179.00
Members: $173.63
Add To Cart
VL2024 Optional Third Stage VAPOR-LOCK® High Capacity Activated Carbon Filter
$54.95
Members: $53.31
Add To Cart
H2080P Molded Inlet Manifold, 12" dia Collar, 1/Cs
$114.95
Members: $111.51
Add To Cart
Download Catalog
Looking for more products from Abatement Technologies? We carry many more products than we are able to list on our website. Click here to download the full Abatement Technologies catalog. Then contact us to place your order!