Products & Equipment: The Micro Store
Micro Store -> Remediation Tools & Equipment -> Air Purifiers -> Omnitec Design PEROx PG Air Purifier
Omnitec Design PEROx PG Air Purifier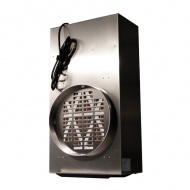 (Click to enlarge)
The PEROx PG air purifier is a powerful tool for fire and flood restoration projects, mold abatement and for control of VOCs, odor and bio-contaminants. The portable PEROx PG is designed to be connected by flex duct to the exhaust from OmniAire machines or to the intake side of any air mover. The PEROx purification process utilizes Hydro-Peroxides and oxidizer plasma, which rapidly sanitizes the air passing through and continues to seek bio-contaminants in surrounding air and on hard surfaces. This portable unit can safely operate in occupied areas and control odors during the restoration projects and the final cleanup.
Oxidizer plasma generated in the PEROx air purifier cell is made from oxygen and humidity from the air and is highly effective in sterilization and decontamination. The oxidizer plasma disperses like a gas in the surrounding air and attaches to all surfaces in the containment area rapidly destroying bio-contaminants. Because Hydro-Peroxides are not affected by high temperatures or humidity, PEROx air purifiers can be used in a wide range of applications and environments.
When the job is complete, unused oxides convert back to H20 and O2 within 15 minutes with no chemical residue. This makes the PEROx one of the most environmentally friendly air purifiers on the market. Our purification process constantly occurs in nature and has been used in thousands of HVAC installations with no known health risks.
Specifications

AIRFLOW: Recommended: 100 - 2000 cfm (must be supplied from external fan)
WEIGHT: 18 Lbs.
FILTRATION: MERV11 pleated filter
CABINET: Aluminum housing
CONTROLS: ON/OFF/TIMER switch; ON indicating light
Hour meter; Timer, adjustable from 6 minutes to 99.9 hours
POWER REQUIREMENTS: 120Vac/50-60Hz/3.0 amp
AIR PURIFIER: Hydro-Peroxides generator
NOTE: The technology used in Hydro-Peroxide purifier is successfully and safely used in thousands of installations in HVAC systems. There is no known case of hydro-peroxides ever creating a health risk.
Options:

PEROx PG Air Purifier - Single Generator Cell
PEROx PG-3 AirPurifier - 2 Generator Cells
Available Options/Accessories
OAHPGAA PEROx PG Air Purifier - Single Generator


Free Domestic Ground Shipping for this item!

$1595.95
Members: $1,548.08
Add To Cart
OAHPG-3AA PEROx PG Air Purifier - Dual Generator


Free Domestic Ground Shipping for this item!

$2195.96
Members: $2,130.09
Add To Cart