Products & Equipment: The Micro Store
Micro Store -> Inspection Tools & Equipment -> Borescopes -> Extech/Flir BR100 Video Borescope Inspection Camera
Extech/Flir BR100 Video Borescope Inspection Camera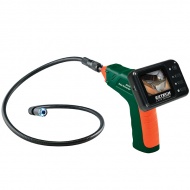 (Click to enlarge)
Video Borescope Inspection Camera with 17mm camera diameter and 2.4 inch color TFT LCD Monitor is ideal for Home Inspection, insect infestation, electrical wire or water pipe location, HVAC, Automotive, Industrial, Aerospace, and Government Applications.
Features:

17mm diameter camera head with 39" (1m) flexible gooseneck cable retains configured shape
Mini water-proof (IP67) camera head for high resolution viewing
Two bright LED lamps with dimmer to illuminate viewed object
Glare-free close-up field of view
Display detaches for easy storage
Optional BR200-EXT extension cable available for increasing viewing depth (maximum 2 extension cables can be connected to the borescope)
Complete with 4 AA batteries, extension tools (mirror, hook, magnet), video output jack, and hard case
Price: $179.99
(Member Price: $174.60)
Download Catalog
Looking for more products from Extech? We carry many more products than we are able to list on our website. Click here to download the full Extech catalog. Then contact us to place your order!