Products & Equipment: The Micro Store
Micro Store -> Inspection Tools & Equipment -> Borescopes -> Extech/Flir BR200 Video Borescope/Wireless Inspection Camera
Extech/Flir BR200 Video Borescope/Wireless Inspection Camera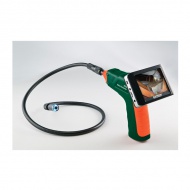 (Click to enlarge)
Extech video borescope with a 17mm camera diameter and 3.5" Color TFT LCD Wireless Monitor with a microSD memory card for capturing images (JPEG) or video (AVI) for viewing on your PC.
Features:

Captured video with date/time stamp can be
played back on the wireless monitor or on any monitor with a video input jack
Video and images can also be transferred to your PC via the microSD card (with included SD adaptor) or USB cable (included) and viewed using Windows® Multimedia Player
NTSC or PAL operation with menus in 10 languages: English, Chinese, German, French, Spanish, Portuguese, Italian, Japanese, Dutch, and Russian
Mini water-proof (IP67) camera for high resolution viewing
Two bright LED lamps with dimmer to illuminate viewed object
Glare-free close-up field of view
39" (1m) flexible gooseneck retains configured shape
Optional 38" (0.97m) extension cable (BR200-EXT) available for increasing viewing depth; maximum 3 extension cables connected to borescope to maintain resolution
Applications:

Home inspection: Inspect in walls for mold, insect infestation, electrical wire or water pipe location
HVAC: Inspect inside ducts, behind motors and compressors
Automotive: View inside or around engines and transmissions
Government: Safety and security inspections
Industrial: Inspect weld integrity, process equipment,
gears, molding machines
Aerospace: Aircraft inspections for contamination, debris, cracks or other damage
Optional Additional Extension Cable:
38" (0.96m) cable length
19mm diameter connector
Maximum 2 extension cables can be connected to the borescope
Optional BRD10 Wireless USB Video Receiver:
Stream live video from your borescope to your laptop or desktop PC
Video can be viewed, transmitted over the internet or saved as a file for future viewing
For use with Model BR200 and BR250 Video Borescope/Wireless Inspection Cameras
Ideal Applications include Water Restoration, HVAC and Refrigeration, Electrical inspection, Automotive, Pest control
Compatible with Windows® XP, Vista and 7
Available Options/Accessories
BR200 Video Borescope/Wireless Inspection Camera
$249.99
Members: $242.50
Add To Cart
BRD10 Wireless USB Video Receiver
$129.99
Members: $126.10
Add To Cart
BR200-EXT Extension Cable for BR150, BR200, BR250
$69.99
Members: $67.90
Add To Cart
Download Catalog
Looking for more products from Extech? We carry many more products than we are able to list on our website. Click here to download the full Extech catalog. Then contact us to place your order!
More photos of this item: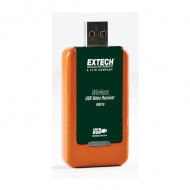 (Click to enlarge)