Products & Equipment: The Micro Store
Micro Store -> Inspection Tools & Equipment -> Water Quality Meters -> Extech/Flir ExStik® RE300 ORP Meter
Extech/Flir ExStik® RE300 ORP Meter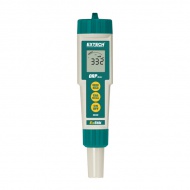 (Click to enlarge)
ExStik® ORP Meter - ORP meter with rugged flat surface ORP electrode and high resolution of 1mV.
Features:
Measures ORP/Redox from -999 to 999mV
Automatic electronic self calibration
Simulated analog bargraph displays change in ORP reading
High resolution of 1mV
Memory stores and recalls 15 readings and saves last calibrated value
Data validation indicators show user the reading is stabilized
Data Hold, Auto shut-off and low battery indication
Optional:
EX006: Weighted Base and Solution Cups Kit
Features:

Plastic solution cups with caps for storing your solutions
Iron cast weighted base to hold the meter in plastic solution cup to obtain a stable reading
Allows for hands-free measurements
Complete with weighted base and 5 solution cups with caps
Available Options/Accessories
RE300 ExStik® ORP Meter
$119.99
Members: $116.40
Add To Cart
EX0006 Weighted Base and Solution Cups Kit
$15.99
Members: $15.52
Add To Cart
EX007 Spare Sample Solution Cups (24pk)
$14.99
Members: $14.55
Add To Cart
CA895 Small Vinyl Carrying Case with Belt Loop
$15.99
Members: $15.52
Add To Cart
RE305 ExStik® Replacement ORP Electrode Module
$54.99
Members: $53.35
Add To Cart
Download Catalog
Looking for more products from Extech? We carry many more products than we are able to list on our website. Click here to download the full Extech catalog. Then contact us to place your order!