Products & Equipment: The Micro Store
Micro Store -> Inspection Tools & Equipment -> Airflow Meters -> Extech 451126 Vane Anemometer Datalogger
Extech 451126 Vane Anemometer Datalogger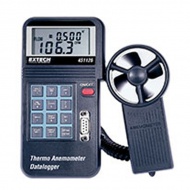 (Click to enlarge)
CFM Vane Anemometer Datalogger. Measures Air Velocity, or Air Volume and Temperature with built-in Datalogger and RS-232 PC Interface.
Features:

Dual 4 digit (9999 count) Multi-function LCD with Data Hold
Accurate (3%) air velocity measurements in ft/min m/sec, knots, km/hr, and MPH units
Accurate (±1.5°F and ±0.8°C) temperature measurements
User selectable °C/°F units
Measures air volume in CFM (ft3/min) and CMM (m3/min)
Dual Display provides "air velocity + temperature" or "air flow + air area"
Remote vane sensor with built-in temperature sensor
MAX/MIN/Average record and recall functions
Complete with RS-232 interface, PC Windows ™ software, cable, 9V battery and carrying case.
Applications:

Heating and air conditioning installation and repair
Air duct and ventilator analysis
Airflow rate in air ducts
Data storage for permanent records
Available Options/Accessories
Download Catalog
Looking for more products from Extech? We carry many more products than we are able to list on our website. Click here to download the full Extech catalog. Then contact us to place your order!