Products & Equipment: The Micro Store
Micro Store -> Inspection Tools & Equipment -> Air Flow Meters - Vane -> Extech 45168CP Mini Thermo-Anemometer with Built-in Compass
Extech 45168CP Mini Thermo-Anemometer with Built-in Compass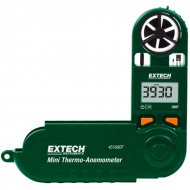 (Click to enlarge)
The 45168CP is a Pocket Thermo-Anemometer which measures Windspeed in ft/min, MPH, m/s, km/h, Knots and Beaufort Force with 10 second averaging function.
Features:

Pocket sized meter folds up for storage and extends up to 9" when taking measurements
Built-in Compass provides wind direction (Head/Cross/Tail Wind calculation) and 360° readings
Delta T displays Air Temperature minus Dew Point
Max function recalls highest windspeed reading over time
Auto Power Off 5 minutes after last key is pressed with disable feature
Water resistant housing floats and drop-tested to 6 feet
Replaceable non-corrosive plastic wind vane (impeller)
Tripod mount for hands-free applications
Complete with CR2032 lithium battery and lanyard
Price: $169.99
(Member Price: $164.90)
Free Domestic Ground Shipping for this item!
Download Catalog
Looking for more products from Extech? We carry many more products than we are able to list on our website. Click here to download the full Extech catalog. Then contact us to place your order!