Products & Equipment: The Micro Store
Micro Store -> Inspection Tools & Equipment -> Thermometers -> Extech/Flir 42510A Mini Wide Range IR Thermometer
Extech/Flir 42510A Mini Wide Range IR Thermometer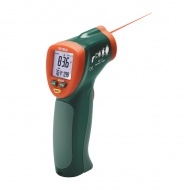 (Click to enlarge)
Measures non-contact surface temperature up to 1200°.
Features:

Compact thermometer measures temperature
from -58 to 1200°F (-50 to 650°C) with 0.1° resolution up to 199.9°
Adjustable High/Low setpoints with audible alarm alerts user when temperature exceeds the programmed setpoints
Adjustable emissivity for better accuracy on different surfaces
Built-in laser pointer identifies target area
Backlighting illuminates display for taking measurements at night or in areas with low background light levels
12:1 distance to target ratio
Data Hold and Min/Max
Overrange indicator
Auto power off
Complete with 9V battery and pouch case
Available Options/Accessories
42510A Mini Wide Range IR Thermometer
$99.99
Add To Cart
42510A-NIST Mini Wide Range IR Thermometer - NIST Certified


Free Domestic Ground Shipping for this item!

$249.99
Add To Cart
Download Catalog
Looking for more products from Extech? We carry many more products than we are able to list on our website. Click here to download the full Extech catalog. Then contact us to place your order!