Products & Equipment: The Micro Store
Micro Store -> Inspection Tools & Equipment -> Thermometers -> Extech/Flir IRT500 Dual Laser IR Thermal Scanner
Extech/Flir IRT500 Dual Laser IR Thermal Scanner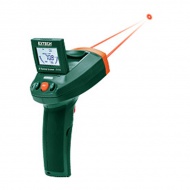 (Click to enlarge)
20:1 Infrared Thermometer with Audible Alarm and 3-Color LED Indicator.
Features:

Measurement range: -58 to 500°F (-50 to 260°C)
Three-color LED indicates High (red), Normal (green), or Low (blue) as well as audible alarm
Tilt adjustable LCD display with backlit feature and dual bargraphs
Five user-programmable threshold settings
A dual laser system for easy targeting
Fast-response, 150 millisecond sampling rate
Min/Max, Trigger lock for continuous use
Complete with 9V battery and carrying case
Price: $129.99
(Member Price: $126.10)
Download Catalog
Looking for more products from Extech? We carry many more products than we are able to list on our website. Click here to download the full Extech catalog. Then contact us to place your order!